Healing Patriots took 5 Veteran and First Responder guests to Happy Camp located in Hillsport, Ontario the week of July 7-14, 2018. Upon their arrival at Happy Camp on Sunday evening and kicked off with a hearty welcome from members of the Healing Patriots team, Happy Camp hosts Chris and Jamie, followed by a ceremonious dinner and welcome where the guests received the trademark H.O.P.E package containing special gifts from our corporate and private partners.
Tools for fishing were given to include; tackle bags, tackle and bait,rod and reel combos by 13 Fishing, and special made handmade quilts provided by Lake Shore Modern Quilters.
Each guest was ecstatic about getting out on the water the next day and couldn't believe everything they had received.
The Resort
Happy Camp is a unique resort near Hillsport. It is owned by Chris and Jamie who provide the ultimate hosting experience. They, along with their two dogs Sadie and Magoo, are family to Healing Patriots. Chris helped us get our boats into the water, take pictures of our daily catches, played the trumpet, and hung out to play games and relax with great company. Jamie helped out in the kitchen for our meals and made sure we had what we needed for supplies, and provided some awesome desserts for the entire crew.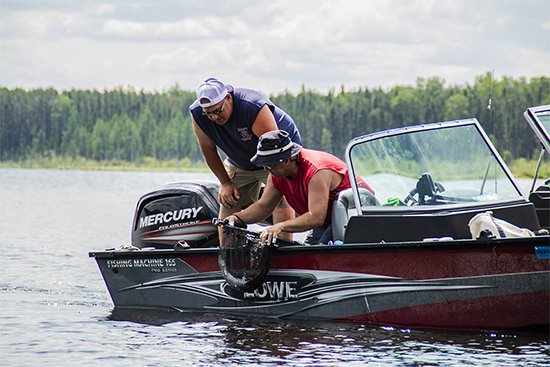 Fishing Therapy
Each guest was paired with a Healing Patriots staff and volunteer fishing guide to assist them with anything they would need during their expedition experience. They worked as a team throughout the trip and shared stories of their time in service to further build their new friendship with each other.
A unique feature to Healing Patriots is a licensed therapist onsite at every expedition to work with our heroes should the time arise for additional assistance. The ability to sit and visit in a non-clinical environment reduces the stress for our heroes and allows for a free flow of conversation to work on making progress and developing new ways to begin healing.
Fishing & Relaxation
The week was full of fishing, enjoying a shore lunch on the beach, playing yard games, BBQ'ing, and just sitting back to relax. The guests were able to "get away" and forget about everyday things in life that currently cause them stress. The fresh Canadian air, the calmness of the quiet lake, and the plentiful catch of Walleye and Northern Pikes were exactly what they needed to begin their new path to A New Beginning.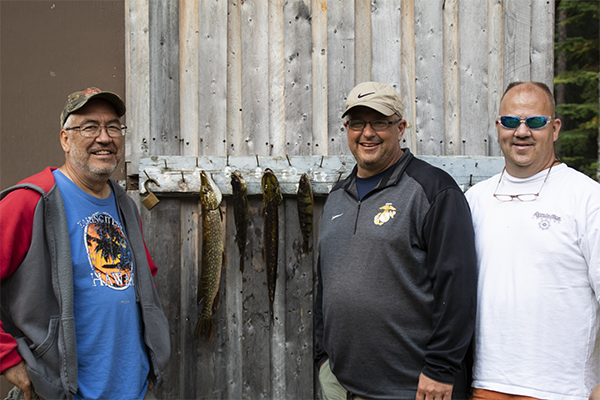 I went on the HPX2 trip. Words cannot say enough on how they helped me. I now have a new look on life 
The Camaraderie Created from HPX2
Our five heroes came from three different states (North Carolina, Minnesota, and Wisconsin). They all began to form their friendships on the 2 day drive up to the resort. By the time they arrived, and were all unpacked, it was time to hang out, relax, and get ready to fish! Each guest had their unique life story, connected with each other, and with the counselor we had on staff. Each evening we gathered as a family, broke bread together, and enjoyed each other's company.  By the time we made it back home, we had already started to miss each other. To help keep everyone connected, Healing Patriots has begun to open group channels through social media for each expedition. This is a great way to also contact staff and the therapist privately if they need to.
Going Home…
At the end of the expedition, everyone felt that they arrived as strangers but left as family. Each guest and volunteer guide and staff are grateful for new friends that have been made and the opportunity to be a part of the Healing Patriots family.  Most importantly, a sense of hope and new found trust was developed. Our Healing Patriots team will be checking in with each of our heroes on a consistent basis and will continue to provide support regularly.
Those who suffer from service related injuries and are in need to find the right resources to start "A New Beginning" can experience a Healing Patriots expedition.
If you or someone you know is looking for an opportunity like this, you can apply today!
Please help us share our mission with your family and friends!!!